Edited to add:
I am honored and humbled that this card was spotlighted at
Simon Says Stamp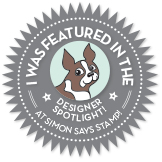 **********
Let me tell you a tale of the making of a card.
Have you ever had one of those cards that kept going wrong?
And this was over a span of a couple of days!
The idea was to color the stamp with markers, spritz with water
and stamp on some watercolor paper.
That actually went well and I used my Aqua painter to move the color.
Then, I wanted to add some embossing.
So, I stamped the word love (this is to be an anniversary card)
above and to the left of the image.
I wanted to emboss a square frame around the word.
The die rearranged itself and the embossing was nowhere near
where it was supposed to be!
So I cut the offending embossing off.
Had to do it at a slant to keep the painting intact.
You can see how I dealt with that.
Monday, Jack spent the day with me.
He wanted to go upstairs and play.
While he was busy with markers and a wet paint brush,
I thought I'd finish up this card.
I needed to get the love back on there.
Fortunately it was small and fit well in the bottom corner.
I turned the piece over to add adhesive,
flipped it back to stick to the card and
THERE'S A SMUDGE OF ORANGE INK ON THE EMBOSSED PIECE!
Fortunately, I was able to pull the embossed piece off without
destroying the painted image.
Bless his heart, Jack wanted to help and he took a baby wipe
and tried to get the ink off the previous embossed piece.
He was very disappointed that it didn't work.
But since I had it all fixed we were good.
THEN I NOTICED ANOTHER ORANGE SMUDGE ON THE IMAGE!
So the smaller branch came out and I inked with markers, spritzed,
stamped
over the smudge and blended.
If you see any smudges on this, please don't let me know.
I had stamped a second image back when things were going smoothly.
Jack thought he'd help me fix that one.
He did good didn't he? It has pink (his favorite color).
And can you see how he highlighted the birds?
I will treasure this fix forever.
This journey started because
is
*****WARM AUTUMN COLORS*****
and
has color
and
WONDERFUL WATERCOLOR
If you're still with me, thanks for sticking it out.
I promise not to be so long winded next time.
**********
Card Recipe
Stamps: The Sweetest Sound (PB),(Not sure where the sentiment came from)
Ink: Cajun Craze, Markers (Crushed Curry, Pumpkin Pie, Cajun Craze, Soft Suede (all SU)
Paper: Solar White (Neena), Watercolor (Arches 140 lb. hot press), Whisper White (SU), Gold Foil (SU)
Other: Square Lattice EF (retired SU), Aqua Painter
Note: I didn't ink all the tails on these birds to make them look a bit like a Carolina Wren. I decided not to try to get that streak on their faces. Sometimes enough is enough!